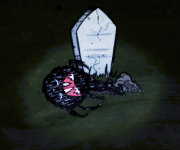 韋伯的頭骨(Webber's Skull) 是個用來解鎖在《巨人王朝》中的角色, 韋伯的物品。每當有蜘蛛蜘蛛被殺死時,有5%的機率會掉落韋伯的頭骨,也包含在洞穴和遺跡裡的蜘蛛變種。此外,當蜘蛛巢或石筍蛛巢被摧毀,或是擊敗蜘蛛女王時也同樣有5%的機率會掉落。而當韋伯這個角色已被解鎖,或是世界中已經存在這個物品時即不會再掉落韋伯的頭骨。 被陷阱捕捉的蜘蛛不會掉落這個物品。
Burying Webber's Skull in a dug-up Grave will cause Webber to appear under a "spotlight" after the grave is struck by Lightning. He will then jump back down into the grave, disappearing, while 6 Spiders appear in his place. Webber is then unlocked in the character menu. The Spiders will be aggressive towards the player, though killing them is not necessary for unlocking Webber.
Webber's Skull will keep dropping as long as it hasn't been buried, but not more than one in each world unless the previous one is destroyed.
提示
Increasing the amount of Spiders and Pigs in World Customization can help with finding the Skull, since Spiders fighting with Pigs will be more commonplace, and each Spider killed by Pigs has a chance to drop the Skull as well. However, players would have to pay attention to all the battles around, since the skull isn't going to drop more than once per world.
你知道嗎?
The addition of Webber's Skull makes Webber one of four playable character that is not unlocked via experience, the other three being Wes, Maxwell and Woodlegs.
Webber's Skull will become "Ashes of Webber's Skull" (Ashes) when carried through the Teleportato.