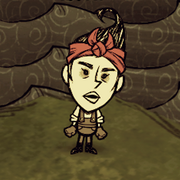 "
I hate seeing hard work wasted.
"
This page lists Winona's Quotes which are spoken when the player examines an in-game item or object. The player can alt-click items and objects to examine them.
It is important to note that while Winona is exclusive to Don't Starve Together, she has many strings pertaining to Don't Starve specific items.
Winona
Tools
Base Game
Don't Starve Together
Lights
Base Game
Reign of Giants
Don't Starve Together
Survival
Base Game
Reign of Giants
Don't Starve Together
Food
Base Game
Reign of Giants
Don't Starve Together
Science
Base Game
Reign of Giants
Don't Starve Together
Exclusive to PS4
Fight
Base Game
Reign of Giants
Don't Starve Together
Structures
Base Game
Reign of Giants
Don't Starve Together
Refine
Base Game
Don't Starve Together
Magic
Base Game
Reign of Giants
Don't Starve Together
Dress
Base Game
Reign of Giants
Don't Starve Together
Ancient
Base Game
Don't Starve Together
​Cartography
Don't Starve Together
​Celestial
Don't Starve Together
​Critters
Don't Starve Together
​Fishing
Don't Starve Together
​Sculpt
Don't Starve Together
​Seafaring
Don't Starve Together
​Balloonomancy
Don't Starve Together
​Books
Don't Starve Together
​Ectoherbology
Don't Starve Together
​Engineering
Don't Starve Together
​Green Thumb
Don't Starve Together
​Seasonings
Don't Starve Together
​Slingshot Ammo
Don't Starve Together
​Events (only)
Hallowed Nights
Winter's Feast
Lunar New Year
The Forge
The Gorge
Nature - Plants
Base Game
Reign of Giants
Don't Starve Together
Nature - Objects
Base Game
Reign of Giants
Don't Starve Together
Nature - Caves
Base Game
Don't Starve Together
Nature - Ruins
Base Game
Don't Starve Together
Boat
Don't Starve Together
Turfs
Base Game
Reign of Giants
Don't Starve Together
Mobs - Monsters
Base Game
Reign of Giants
Don't Starve Together
Mobs - Neutral Animals
Base Game
Reign of Giants
Don't Starve Together
Mobs - Passive Animals
Base Game
Reign of Giants
Don't Starve Together
Mobs - Tallbird family
Base Game
Mobs - Bosses
Base Game
Reign of Giants
Don't Starve Together
Mobs - Other
Base Game
Reign of Giants
Don't Starve Together
Other Players (only)
Wilson
Willow
Wolfgang
Wendy
WX-78
Wickerbottom
Woodie
Wes
Maxwell
Wigfrid
Webber
Winona
Wortox
Wormwood
Warly
Wurt
Walter