Here is a list, with images, showing how Winona looks wearing various in-game items equipped in the chest or head slot. Click the images to view them in full size.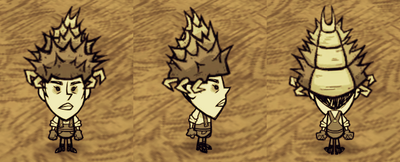 Other Items










Events
Candy Bag (Hallowed Nights)

Lucky Beast Body (Year of the Gobbler)

Lucky Beast Head (Year of the Gobbler)

Lucky Beast Tail (Year of the Gobbler)

Encumbering Items
Cave-in Boulder








Celestial Altar Base

Celestial Altar Idol

Celestial Altar Orb
Glass Castle

Glass Spike (Medium)

Glass Spike (Short)
Glass Spike (Tall)

Suspicious Marble (Bishop)
Suspicious Marble (Knight)

Suspicious Marble (Rook)

The Forge
Barbed Helm

Blossomed Wreath

Clairvoyant Crown

Crystal Tiara

Feathered Reed Tunic

Feathered Wreath

Flower Headband

Jagged Grand Armor
Jagged Wood Armor
Nox Helm

Reed Tunic

Resplendent Nox Helm

Silken Grand Armor
Silken Wood Armor
Steadfast Grand Armor
Steadfast Stone Armor
Stone Splint Mail
Whispering Grand Armor
Wood Armor
Woven Garland

Outfits
Ancient Set

Armored Set

Bone Set

Dapper Set

Rainfall Set
Shell Set

Slurper Set
Summer Set
Heatwave Set

Winter Set

Blizzard Set

Hibearnation Set
Community content is available under
CC-BY-SA
unless otherwise noted.