"
Hmmm. I wonder if these will burn.
"
–Willow
Willow is the first playable Character in Don't Starve that can be unlocked via Experience, when the player reaches 160 XP. She is also one of the playable Characters in Don't Starve Together (DST). She is a young woman who is obsessed with fire.
As part of the Don't Starve Together content updates, Willow received a character refresh on May 7, 2019.[1]
Origin
"
Willow always regarded being brought to The Constant as a new beginning. It allowed her to leave everything behind, after all.
"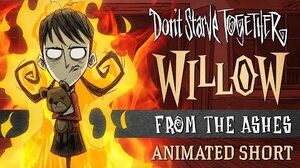 Willow's backstory was revealed in an animated short titled From the Ashes. An official summary of the short was provided in DST's Compendium:
Willow always regarded being brought to The Constant as a new beginning. It allowed her to leave everything behind, after all. From a young age, Willow seemed to possess a knack for attracting bad luck. Orphaned at a young age and forced to live in a children's home with cruel caregivers, she soon found her nights plagued by shadowy visions of terrible creatures... creatures that could only be held at bay by her faithful teddy bear Bernie. But when Bernie was taken away as punishment for what her caregivers saw as unfit behavior, Willow was left to fend for herself when the shadows came for her. That's when she learned that nothing holds back the darkness like a roaring flame. Nothing is more comforting than watching your troubles light up and crumble to ash... It wouldn't be the last time Willow burned it all down to start anew.
Special Power
See also: Willow's Lighter and Bernie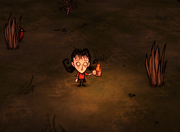 Willow starts with her exclusive item, Willow's Lighter. The Lighter functions similarly to a Torch, but with infinite Durability and a lower light radius. It can be used to set objects on fire and provides light that can be used to survive the night without being attacked by Charlie.
Willow is immune to fire. In addition, close vicinity to fire will gradually restore Willow's sanity. The larger the fire, the more Sanity is regained up to 10

per minute. Willow must stand close to a fire to receive the effect, but her fire immunity allows no risk in doing so.
In DST, Willow's Lighter is craftable (only by Willow) and can also be used to cook Food, but it no longer has infinite durability, and will expire in 600 seconds or from cooking 100 times.
Bernie is an additional starting item exclusive to Willow. She starts with him in her inventory, and he is craftable from the Survival tab. He can be equipped in the hand slot by Willow exclusively to provide warmth and sanity, but at the cost of durability. This is not possible as any other character. If he is placed on the ground and is near an insane Willow (below 15% sanity), Bernie will become BERNIE! and grow to immense size. BERNIE! is able to taunt and attack most Mobs. He will not taunt Bosses. Only one BERNIE! will be active for each Willow player in the game. Any other Bernie nearby will become animate, but will not increase in size. This Bernie will attract Shadow Creatures and distract them until his HP is completely depleted. In addition, this smaller Bernie can be activated and used by all insane characters, not just Willow.
Willow will not receive damage when extinguishing smoldering fires and does it faster than other characters. When she fuels a fire, it is 50% more efficient compared to other characters. Also, it takes longer for Willow to Overheat and she takes less damage from it. Willow only takes half as long (0.5 seconds) as other Characters (1 second) to cook food.
Close vicinity to fire will gradually restore Willow's sanity. The larger the fire, the more sanity is regained up to 11

per minute. Willow must stand close to a fire to receive the effect, but her fire immunity allows no risk in doing so.
She has a passive sanity multiplier making her gain sanity 10% faster (sanity over time effects, including aura, structures and equipment).
Disadvantage
When Willow is at 60 or less sanity, she will randomly light a small fire at her feet without warning, and say "Tee Hee!", "I made a fire!", or "Oops." The small fire is capable of spreading and setting important structures (including the player's base) and objects on fire. Caution is advised when at low sanity with Willow.
Although, like any other Fire, it is capable of raising Willow's sanity when stood nearby. When the fire goes out it will leave a pile of Ashes, similar to a Campfire.
In DST, Willow is more susceptible to Freezing. She loses more health and sanity when cold. Winter insulating items are less effective when equipped by Willow. She takes less hits to become frozen. She loses sanity 10% faster.
Tips
Main article: Guides/Character guide-Willow

Don't Starve:
There is no cap to the amount of sanity/min that Willow can gain from multiple fires. So the player can drop multiple flammable items nearby ( Grass, Logs etc.) and then set them on fire to gain massive amounts of sanity and warmth. Note that a single stack counts as a single fire, so any items will need to be dropped separately.

On the console version, the drop command can be used to drop all items in the same spot as separate stacks. With enough items, sanity can be instantly restored.
This is only really worth it in versions of the game where one can construct an Ice Flingomatic, which can preserve the items at little cost.

An Ice Flingomatic can help prevent base fires caused by Willow's low sanity.
Due to her immunity to fire, Willow can set ablaze items in her inventory to regain sanity, get warm, and produce a large light radius bigger than all other portable sources. Care must be taken to avoid getting close to flammable objects while doing this.

Saplings or Grass Tufts have a nearly 30 second burn time, making them ideal for this strategy. Once more, a stack that's on fire counts as a single fire, regardless of its size.
A flaming stack of items can be extinguished by combining it with another stack (even if that stack is on fire as well). However, combining a non-flaming stack with a flaming stack will do nothing.
Saplings or Grass Tufts should be extinguished before the 25 second mark to give a wider margin of error.
Neutral mobs can be killed, without fighting them, by chasing them with flaming items.
It is inadvisable to do this during Summer which will cause heat issues.

Other light sources are still important. Torches, the Miner Helmet and the Lantern are still necessary for situations where a flaming item can cause unwanted fires, but a larger light source than the lighter is needed.
Trivia
In-Game
Willow was added to the original Don't Starve Chrome build on August 7, 2012.[2]
Willow's voice is played by a flute.
Willow has a skull in the game files.
Willow's previous perk, before the Strange New Powers update, was to light fires at her feet when in darkness, like she does when low on Sanity now.
When struck by Lightning in DLCs, Willow, like most other Characters, is shown to have bones in her hair. In addition to this, she has bones in her skirt.
Willow was the second Don't Starve Together character to have a character update, the first being Winona.
In Don't Starve Together, she has a unique idle animation in which she gives Bernie a hug. This only occurs when she has Bernie equipped in the hand slot.
Lore
Willow was originally stated to be around her late teens.[3] However, Klei later said that Willow is in her early 20's.[4]
According to her examinations of the Tent and the Siesta Lean-To, Willow was a Girl Scout, and she earned all of the patches.

According to her examination quote for the Pinetree Pioneer Hat, she wasn't actually in the organization, instead having "crashed" Girl Scouts.

Willow's birthday is listed as May 7 in the Compendium. This is also the same day Willow received her character update in DST.
Cultural References
Willow's nickname may be a reference to Firestarter, a novel by Stephen King. In addition to this, both Willow and Bernie could be a reference to an event in the story where main character Charlie, a young girl, first manifests her pyrokinesis by setting her teddy bear on fire after tripping over it.

Willow may additionally be referencing Annie, a champion from the MOBA game League of Legends. Both characters have an affinity for fire and a beloved teddy bear that grows to massive and monstrous proportions on command.

Willow's Victorian skin set may be a reference to "The Little Match Girl", a short story by Hans Christian Andersen.
Willow's "The Woeful" skin set from Hallowed Nights 2018 seems to reference the legend of Lizzie Borden as well as Wednesday Addams from The Addams Family.
Gallery
Sounds
| | |
| --- | --- |
| Willow's voice. | |
| Willow getting hurt. | |
| Willow dying. | |
| Willow drowning (). | |
| Willow sinking (). | |
| Willow's ghost voice (). | |
| Willow's voice as she performs the /pose emote (). | |
| Willow yawning, as part of the /yawn emote (). | |
| Willow singing the Starver's Carol, as part of the /carol emote (). | |
References
Community content is available under
CC-BY-SA
unless otherwise noted.