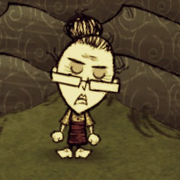 "
Measure before you act.
"
This page lists Wickerbottom's Quotes which are spoken when the player examines an in-game item or object, or when the world under goes a certain event, such as Hound attacks or Earthquakes. The player can alt-click items and objects to examine them.
Wickerbottom
Tools
Base Game
Shipwrecked
Machete- "Used for hacking through the brush."
Luxury Machete- "The most malleable of metals, but let's see how this slices."
Hamlet
Shears- "A useful tool for horticultural purposes."
Don't Starve Together
Pocket Scale- "I'm always prepared to weigh in."
Lights
Base Game
Reign of Giants
Shipwrecked
Hamlet
Don't Starve Together
Survival
Base Game
Reign of Giants
Shipwrecked
Hamlet
Don't Starve Together
Food
Base Game
Reign of Giants
Shipwrecked
Hamlet
Sprinkler- "Some much needed hydration."
Don't Starve Together
Science
Base Game
Reign of Giants
Shipwrecked
Hamlet
Don't Starve Together
Exclusive to PS4
Accomploshrine- "I feel a compulsive urge to activate it, again and again."
Fight
Base Game
Reign of Giants
Scalemail- "Pyrotechnic armor!"
Morning Star- "I wonder if it's named for Venus?"
Weather Pain- "I've never seen a weather vane employed as a weapon."
Shipwrecked
Hamlet
Don't Starve Together
Structures
Base Game
Reign of Giants
Shipwrecked
Hamlet
Don't Starve Together
Refine
Base Game
Shipwrecked
Hamlet
Claw Palm Sapling- "Require quite a bit of care."
Don't Starve Together
Cratered Moonrock- "Would make a useful cartographic instrument with proper embellishments."
Marble Bean- "Marble growth is arboriculturally impossible."
Feathery Canvas- "A sturdy, lightweight material."
Magic
Base Game
Reign of Giants
Shipwrecked
Piratihatitator- "It's a research machine fueled by pirate science."
Piratihatitator (burnt)- "Not very useful now, is it?"
Dripple Pipes- "Its music stirs Mother Nature."
Hamlet
Don't Starve Together
Dress
Base Game
Reign of Giants
Shipwrecked
Hamlet
Gas Mask- "For investigating dangerous areas."
Pith Hat- "Historically accurate and functionally imperative."
Thunderhat- "I'm not usually one for hats."
Don't Starve Together
Ancient
Base Game
Don't Starve Together
Construction Amulet- "Works almost as a magical binding agent."
Thulecite Club- "An implement for administering devastating blows."
Nautical
Shipwrecked
Hamlet
Cork Bowl Canoe- "I suppose it's safe for a quick trip up the river."
Volcanic
Shipwrecked
​Treasure Hunting
Hamlet
​City Planning
Hamlet
Lamp Post (off)- "A dormant street lamp."
Lamp Post (on)- "Quite radiant."
Town House- "A more advanced version of pig domicile."
Town House (burning)- "It has ignited."
The Sterling Trough Deli- "I do hope their food is fresh."
Pigg and Pigglet's General Store- "A place to purchase goods."
Curly Tails Mud Spa- "Contains First Aid in there."
Swinesbury Fine Grocer's- "A delightful place to pick up groceries."
Miss Sow's Floral Arrangements- "This shop trades in local flora."
'The Sty' Oddities Emporium- "Holds a motley of strange objects in there."
The Flying Pig Arcane Shop- "A shop for items of esoteric nature."
The Boar's Tusk Weapon Shop- "A boutique for items of brutality."
The Sow's Ear Hat Shop- "I could use a head accoutrement."
Swinesbury Academy- "Ah! At last a place of learning!"
Swinesbury Mineral Exchange- "Contains coins of different denominations. Should be quite interesting."
The Tinkerer's Tower- "An excellent resource."
Swinesbury City Hall- "The home of an elected official."
My City Hall- "My place of work."
Security Contract- "Now I can hire my own security."
Slanty Shanty- "A fine domicile."
Slanty Shanty (owned)- "A place to put my library."
Slanty Shanty (burnt)- "Goodness!"
Watch Tower- "A fortified tower for the Royal Guard."
​Renovate
Hamlet
House Expansion Permit- "For a new wing to my library."
Demolition Permit- "A permit for renovations. Perhaps a non-fiction section."
Flooring
Shelves
Plantholders
Columns
Wall Papers
Ceiling Lights
Wired Bulb, Metal Shade Lamp, Chandalier, Rope Light, Dual Rope Light, Blown Glass Bulb, Cherry Lamp Shade, Hanging Blooming Lamp, and Hanging Floral Lamp- "Necessary for night reading."
Wall Decorations
Chairs
Classic Chair, Corner Chair, Bench, Horned Chair, Lounge Chair, Stuffed Chair, Rocking Chair, and Fancy Chaise- "A nice place to read a book."
Massager Chair- "I would avoid that."
House Upgrades
Doors
Windows
Peaked Curtain Window, Peaked Window, Square Window, Tall Window, Large Square Curtain Window, and all Curtain Window- "A window to the outside."
Round Burlap Window- "It could use some better drapery."
Greenhouse Wall- "Ideal for facilitating some of my botanical activities."
Rugs
Lamps
Fringe Lamp, Stainglass Lamp, Downbridge Lamp, Dual Embroidered Lamp, Ceramic Lamp, Glass Lamp, Dual Fringes Lamp, Candelabra Lamp, Elizabethan Lamp, Gothic Lamp, Orb Lamp, Bellshade Lamp, Crystals Lamp, Upturn Lamp, Dual Upturn Lamp, Spool Lamp, Edison Lamp, Adjustable Lamp, Right Angle Lamp, and Fancy Lamp- "Perfect for a little night reading."
Tables
Hard Wood Desk- "A place to write notes."
Chess Table- "If only I had a worthy opponent."
​Cartography
Don't Starve Together
Critters
Don't Starve Together
Sculpt
Don't Starve Together
​Celestial
Don't Starve Together
​Seafaring
Don't Starve Together
​Books
Base Game
Shipwrecked
Joy of Volcanology- "Rainus Magmus!"
​Engineering
Don't Starve Together
​Green Thumb
Don't Starve Together
Bramble Husk- "I believe our friend knit it himself."
Bramble Trap- "Microscopic barbs on the thorns make them quite unpleasant."
Compost Wrap- "Oh dear. Those are some large droppings."
​Seasonings
Don't Starve Together
​Events (only)
Hallowed Nights
Candy Bag- "A festive bag for seasonal treats."
Candy Apple- "Remember to eat in moderation, children."
Candy Corn- "Delightfully colored kernels of high fructose corn syrup."
Catcoon Candy- "It almost seems a shame to eat them."
Choco Pigs- "I fear I've a terrible weakness for a spot of chocolate."
Gummy Spider- "I was always a fan of black licorice, myself."
Jelly Worm- "I had best not hear of any tummy aches later."
Not-So-Candy Corn- "Hmm, well, at least there's a healthy option on the table."
Raisins- "I'll take the ones you don't want, dears."
"Raisins"- "I'd prefer none of you eat these at all."
Candy Lice- "The candy itself is quite pleasant, if unappealing in appearance."
Otherworldly Jawbreaker- "There will be some sore jaws in the morning, I imagine."
Lava Pepper- "A delightful ten on the Scoville scale."
Broken Stake- "Luckily it is much too brittle to inflict any real damage."
Cubic Zirkonia Ball- "Oh, I got my hopes up for a nice crystal ball."
Empty Elixir- "Odorless. I believe it may have been sugar water."
Faux Fangs- "Dunk those in boiling water before wearing them, dear."
Monkey Paw- "The paw grants three wishes, with terribly ironic results. So the story goes."
Spider Ring- "A decorative arachnid adornment! How darling!"
Binoculars- "This simply does not work right."
Lone Glove- "It appears to be an abandoned glove."
Snail Scale- "What a cute little mollusk shaped scale!"
Goop Canister- "This does not seem like it came from this world."
Toy Cobra- "Goodness, it seems quite wistful."
Crocodile Toy- "Perhaps I ought to save it for Webber."
Broken Terrarium- "A waste of a unique flora specimen."
Odd Radio- "What a curious device!"
Broken Hairdryer- "What an odd contraption."
Mad Scientist Lab- "Mad science indeed!"
Steeped Lunar Essence- "
Totally Normal Root- "The root cutting of a beastly tree."
Totally Normal Sapling- "Ah. Its horror has taken root."
Bat Decoration- "A flourish of flying mammal."
Crow Decoration- "A corvus such as this would do better in a tree."
Dangling Depth Dweller Decoration- "An ornament such as this should be hung up."
Ghost Decoration- "An ornamental poltergeist meant to be hung somewhere."
Spider Decoration- "An arborator adornment of the arachnid variety."
Tentacle Decoration- "I really should decorate."
Bats coming out of tree- "Curious. I seem to be hallucinating."
Drinking bravery potion- "My intestinal fortitude has returned!"
Winter's Feast