This feature has been removed from the game.
The information presented here is for reference only.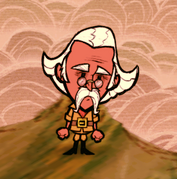 "
I say! This is quite fascinating!
"
This page lists Warbucks's quotes, which are spoken when the player examines an in-game object, or during certain in-game events. The player can alt-click items and objects to examine them.
Warbucks
Tools
Base Game
Shipwrecked
Hamlet
Lights
Base Game
Reign of Giants
Shipwrecked
Hamlet
Survival
Base Game
Reign of Giants
Shipwrecked
Hamlet
Food
Base Game
Reign of Giants
Shipwrecked
Hamlet
Science
Base Game
Reign of Giants
Shipwrecked
Hamlet
Exclusive to PS4
Fight
Base Game
Reign of Giants
Shipwrecked
Hamlet
Structures
Base Game
Reign of Giants
Shipwrecked
Hamlet
Refine
Base Game
Shipwrecked
Hamlet
Magic
Base Game
Reign of Giants
Shipwrecked
Hamlet
Dress
Base Game
Reign of Giants
Shipwrecked
Hamlet
Ancient
Base Game
Nautical
Shipwrecked
Hamlet
Volcanic
Shipwrecked
​Treasure Hunting
Hamlet
​City Planning
Hamlet
​Renovate
Hamlet
Flooring
Shelves
Plantholders
Columns
Wall Papers
Ceiling Lights
Wall Decorations
Chairs
House Upgrades
Doors
Windows
Rugs
Lamps
Tables
Nature - Plants
Base Game
Reign of Giants
Shipwrecked
Hamlet
Nature - Objects
Base Game
Reign of Giants
Shipwrecked
Hamlet
Nature - Caves
Base Game
Hamlet
Nature - Ruins
Base Game
Nature - Volcano
Shipwrecked
Nature - Ruinous Caves
Hamlet
Nature - Mant Hill
Hamlet
Nature - Palace
Hamlet
Turfs
Base Game
Reign of Giants
Shipwrecked
Hamlet
Mobs - Monsters
Base Game
Reign of Giants
Shipwrecked
Hamlet
Mobs - Neutral Animals
Base Game
Reign of Giants
Shipwrecked
Hamlet
Mobs - Passive Animals
Base Game
Reign of Giants
Shipwrecked
Hamlet