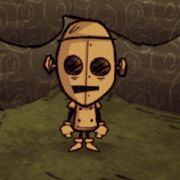 "
I SHALL DOMINATE ALL CREATURES
"
This page lists all of WX-78's Quotes which are spoken when the player examines an in-game item or object. The player can alt-click items and objects to examine them.
WX-78
Tools
Base Game
Shipwrecked
Hamlet
Shears- "I WILL DEFEAT SOME VEGETATION WITH THIS!"
Don't Starve Together
Lights
Base Game
Reign of Giants
Shipwrecked
Hamlet
Don't Starve Together
Survival
Base Game
Reign of Giants
Shipwrecked
Hamlet
Don't Starve Together
Food
Base Game
Reign of Giants
Shipwrecked
Hamlet
Sprinkler- "AN ENEMY BARRAGE!"
Don't Starve Together
Science
Base Game
Reign of Giants
Shipwrecked
Hamlet
Don't Starve Together
Exclusive to PS4
Accomploshrine- "I AM GOOD AT REPEATING TASKS"
Fight
Base Game
Reign of Giants
Scalemail- "SCALES FUNCTION SIMILAR TO MINIATURE FLAMETHROWERS"
Morning Star- "WEAPON OF CHOICE"
Weather Pain- "TREACHEROUSLY POWERFUL GUSTS"
Shipwrecked
Hamlet
Don't Starve Together
Structures
Base Game
Reign of Giants
Shipwrecked
Hamlet
Don't Starve Together
Refine
Base Game
Shipwrecked
Hamlet
Claw Palm Sapling- "REQUIRES RESOURCES"
Don't Starve Together
Magic
Base Game
Reign of Giants
Shipwrecked
Piratihatitator- "WORD PRONUNCIATION PROGRAM REBOOTING..."
Piratihatitator (burnt)- "MY SPEECH SYSTEM WAS LABORING TO PRONOUNCE ITS NAME ANYWAY"
Dripple Pipes- "DOWNLOADING SHEET MUSIC..."
Hamlet
Don't Starve Together
Dress
Base Game
Reign of Giants
Shipwrecked
Hamlet
Gas Mask- "AIR FILTER UNIT ACQUIRED"
Pith Hat- "CASING FOR MY METAL HULL"
Thunderhat- "I WILL BRING THE THUNDER NOW."
Don't Starve Together
Ancient
Base Game
Don't Starve Together
Construction Amulet- "CONSERVATION OF MASS... IGNORED"
Thulecite Suit- "QUICK PUT IT ON ME"
Houndius Shootius- "MIGHTY BEASTS HAVE BEEN TAMED TO FIGHT FOR ME."
Nautical
Shipwrecked
Log Raft- "I AM UNCOMFORTABLE BEING SO CLOSE TO THE WATER"
Raft- "I REALLY DO NOT WANT TO FALL INTO THE GLORIFIED SALT PUDDLE"
Row Boat- "I ROWBOAT"
Cargo Boat- "SAILING VESSEL WITH EXTRA STORAGE CAPABILITIES"
Armored Boat- "WAR VESSEL WITH DEFENSIVE OUTER SHELL"
Encrusted Boat- "I DO NOT TRUST IT TO KEEP ME DRY"
The 'Sea Legs'- "IT COULD USE AN UPGRADE"
Sea Legs Sail- "THE ORGANICS KEEP IT AS A REMINDER OF THEIR MORTALITY"
Boat Repair Kit- "SEA VESSEL REPAIRS AT SEA"
Thatch Sail- "ADDED WIND HARNESSING CAPABILITY"
Cloth Sail- "INCREASED EFFICIENCY OF WIND HARNESSING CAPABILITIES"
Snakeskin Sail- "REPTILIAN SCALES IMPROVE SAIL EFFICIENCY"
Feather Lite Sail- "INCREASED POTENTIAL FOR HARNESSING WIND"
Iron Wind- "MOTORIZED SEA VESSEL UPGRADE"
Boat Cannon- "MODIFICATION TO WARSHIP CAPABILITIES"
Quackering Ram- "OUT OF MY WAY, INFERIORS"
Sea Trap (held and placed)- "GO INSIDE STUPID SEA THINGS."
Sea Yard (off)- "POWERED DOWN"
Sea Yard (on)- "BOAT MAINTENANCE: ENGAGED"
Sea Yard (out of fuel)- "FUEL INPUT REQUIRED"
Tar Extractor (off)- "I MUST HIT THE SWITCH TO WAKE MY BROTHER"
Tar Extractor (on)- "MY MACHINE BROTHER WORKS THE WATER IN MY STEAD"
Tar Extractor (out of fuel)- "MY MACHINE BROTHER HUNGERS"
Trawl Net- "USE IN BAD WEATHER FOR BEST RESULTS"
Trawl Net (detached)- "IT APPEARS TO HAVE PERFORMED ITS TASK"
Trawl Net (sinking)- "IT WILL SINK WHEN IT REACHES ITS SATURATION POINT"
Trawl Net (sinking soon)- "IT IS ABOUT TO REACH MAXIMUM SATURATION POINT"
Spyglass- "TEMPORARY VISION SYSTEM UPGRADE"
Super Spyglass- "MAXIMIZES VISION SYSTEMS"
Captain Hat- "HEADWEAR THAT ATTRIBUTES CAPTAIN STATUS"
Pirate Hat- "HEADGEAR BEST SUITED FOR SEA TRAVEL"
Lucky Hat- "BUT WHAT IS ITS PURPOSE"
Life Jacket- "ELIMINATES DEATH OUTCOME FROM SHIPWRECKING EVENTS"
Hamlet
Cork Bowl Canoe- "IT MOCKS ME"
​Volcanic
Shipwrecked
​Treasure Hunting
Hamlet
​City Planning
Hamlet
Lamp Post (off)- "NONFUNCTIONING"
Lamp Post (on)- "PRIMITIVE SOURCE OF ILLUMINATION"
Town House- "CONTAINER FOR PIGS"
Town House (burning)- "NO LONGER FUNCTIONAL"
The Sterling Trough Deli- "CONTAINS PREPARED ENERGY PACKETS"
Pigg and Pigglet's General Store- "PLACE OF TANGIBLE GOODS"
Curly Tails Mud Spa- "TECHNICAL SUPPORT FOR FLESHLINGS"
Swinesbury Fine Grocer's- "CONTAINS PACKETS OF BIOLOGICAL ENERGY"
Miss Sow's Floral Arrangements- "FULL OF INFANT LIFEFORMS"
'The Sty' Oddities Emporium- "CONTAINS MANY IRREGULARITIES"
The Flying Pig Arcane Shop- "CONTAINS SOFTWARE UPGRADES"
The Boar's Tusk Weapon Shop- "CONTAINS DESTRUCTIVE ATTACHMENTS"
The Sow's Ear Hat Shop- "A PLACE FOR HEAD ATTACHMENTS"
Swinesbury Academy- "EXTERNAL HARD DRIVE FOR ORGANICS"
Swinesbury Mineral Exchange- "A PLACE OF CURRENCY UPGRADES"
The Tinkerer's Tower- "CONTAINS SOFTWARE UPDATE FILES"
Swinesbury City Hall- "FLESHLING PROTOCOL OFFICE"
My City Hall- "I RULE THEM ALL!"
Security Contract- "README FILE FOR BIOLOGICAL ANTIVIRUS SOFTWARE"
Slanty Shanty- "REQUIRES INHABITANT"
Slanty Shanty (owned)- "HOUSING UNIT FOR A WX-78"
Slanty Shanty (burnt)- "TERMINATED"
Watch Tower- "FOR BIOLOGICAL ANTIVIRUS HARDWARE"
​Renovate
Hamlet
House Expansion Permit- "FLESH SACK BUREAUCRACY ACQUIRED"
Demolition Permit- "FOR REPROGRAMMING MY HOME"
Flooring
Shelves
Plantholders
Columns
Wall Papers
Ceiling Lights
Wall Decorations
Chairs
House Upgrades
Doors
Windows
Rugs
Lamps
Tables
​Cartography
Don't Starve Together
​Critters
Don't Starve Together
​Sculpt
Don't Starve Together
​Celestial
Don't Starve Together
​Seafaring
Don't Starve Together
​Books
Shipwrecked
Joy of Volcanology- "WHERE DOES IT PLUG IN?"
Don't Starve Together
​Engineering
Don't Starve Together
​Green Thumb
Don't Starve Together
Bramble Husk- "HE MADE IT WITH HIS POOP HANDS"
Bramble Trap- "I HATE PLANTS"
Compost Wrap- "THAT FILTHY CREATURE SMEARS IT DIRECTLY ON HIS FACE"
​Seasonings
Don't Starve Together
​Events (only)
Hallowed Nights
Candy Bag- "BAG FOR SWEETS"
Candy Apple- "WHAT IS THE PURPOSE OF SHAPING FOODS LIKE OTHER FOODS"
Candy Corn- "HORRIBLE TEXTURE, LOOKS NOTHING LIKE CORN. I LOVE IT"
Catcoon Candy- "TINY HAIRY ORGANICS ENTOMBED IN FRUCTOSE"
Choco Pigs- "THE TREATS INSIDE ARE SHAPED LIKE FLESHLINGS"
Gummy Spider- "SPIDER CHILD. WATCH ME CONSUME YOUR TINY BRETHREN"
Jelly Worm- "EVERY TENTACLE IS EDIBLE IF YOU TRY"
Not-So-Candy Corn- "INFERIOR CORN OF CANDY"
Raisins- "THE KING OF PIGS WILL BE THE FIRST IMPRISONED WHEN I AM OVERLORD"
"Raisins"- "EAT THEM, HUMANS"
Candy Lice- "IT IS A GELATIN LIE"
Otherworldly Jawbreaker- "IT TASTES LIKE THE FUTURE"
Lava Pepper- "MY MOUTH FEELS NO PAIN"
Broken Stake- "NOT EVEN A WEAPON"
Cubic Zirkonia Ball- "THE FUTURE IS CLEAR AS MUD"
Empty Elixir- "THE CONTENTS PROBABLY KILLED A HUMAN. HAHA"
Faux Fangs- "TEETH ARE FOR FILTHY FOOD-CHOMPING FLESHLINGS"
Monkey Paw- "I WISH FOR MORE WISHES"
Spider Ring- "AWFUL SPIDER JUNK"
Binoculars- "MY OPTICS ALREADY POSSESS ZOOM FUNCTIONALITY"
Lone Glove- "IT IS A RED GLOVE"
Snail Scale- "I HAVE NO NEED FOR IT"
Goop Canister- "DISGUSTING FILTH JUNK"
Toy Cobra- "I DO NOT PLAY"
Crocodile Toy- "I CANNOT COMPREHEND CHILDHOOD JOY"
Broken Terrarium- "DESTROYED. HA HA"
Odd Radio- "MY LOGIC FEELS FUNNY"
Broken Hairdryer- "NONFUNCTIONAL"
Mad Scientist Lab- "BROTHER! WHAT HAS DRIVEN YOU MAD!"
Steeped Lunar Essence- "
Totally Normal Root- "DIMINUTIVE WOOD BASED LIFE FORM"
Totally Normal Sapling- "A GROWING HORROR"
Bat Decoration- "ACCESSORY FOR HORRIFIC TREE"
Crow Decoration- "FLESHLESS FLESHSACK"
Dangling Depth Dweller Decoration- "NEEDS HANGING TO INDUCE HORROR"
Ghost Decoration- "ERROR: DOES NOT FUNCTION IN INVENTORY"
Spider Decoration- "A FAKE FLESHSACK USED FOR DECORATION"
Tentacle Decoration- "NEEDS TREE TO PERFORM DECORATING TASKS"
Bats coming out of tree- "WARNING: VISUAL COMPONENTS MALFUNCTIONING"
Drinking bravery potion- "FLYING FLESHLINGS NO LONGER ACTIVATE FEAR UNITS"
Winter's Feast