This user is a Rollback on the Don't Starve Wiki. (verify)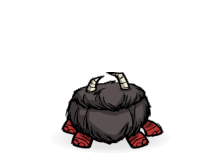 AteBallEight is taking a break from Don't Starve game Wiki.
Although they may occasionally be able to do some editing, messages will not be replied to swiftly.
Hello . I'm just a guy who plays Don't Starve and wants to contribute to the wiki by making edits here and there. I also created the Inventory page. I absolutely love Don't Starve, and my two favorite characters are WX-78 and Wigfrid.
My current record for days lived is 198. You can tell I am not a hardcore player... but I still love trying not to die any way possible!

I have 1 lucky edit, and it is the 122,000th edit.
Be active on the wiki again am i right
Community content is available under
CC-BY-SA
unless otherwise noted.