| | |
| --- | --- |
| | This page describes an upcoming or planned feature. The content may be inaccurate and may contain spoilers and other speculations. |
The Thunderhat is a craftable Dress Item exclusive to the Hamlet DLC. It is found in the Dress Tab, requires 1 Thunder Feather, 2 Gold Nuggets, and 3 Cork to craft, and an Alchemy Engine to prototype.
The Thunderhat prevents the player from being shocked by lightning from Thunderbirds. Each lightning strike reduces the durability by 10% and Thunderbids typically cause three bolts of lightning.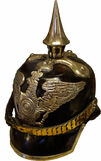 The Thunderhat appears to be modeled after Pickelhaube-style helmets common to European militaries in the 18th and 19th centuries.