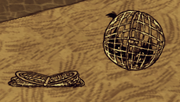 "
They keep falling for it!
"
A
Bird Trap
is a
Survival
item used to catch the 3 flying birds, 
Red Birds
, 
Crows
, and
Snowbirds
. Traps can be baited with seeds to speed up the hunt, though it is not a requirement. A Bird Trap is crafted using 3
Twigs
and 4
Silk
and requires a
Science Machine
to prototype. Using a
Feather Hat
will increase the amount of birds landing to speed up the process.
It would appear that, as of the "Strange New Powers" update, there is a chance a trap will fail to catch a bird and simply break, leaving the bird that triggered the trap lying on the ground for a very brief time before flying away. The failed trap can still be picked up and reset, but this still costs one durability use. It is currently unknown whether the chance of a trap failing is based on a certain probability, bird type, or player proximity.
Recipe
| | | | | | | |
| --- | --- | --- | --- | --- | --- | --- |
| | | | | ×4 | | |
Trivia
Following the 13th December update, Feathers and Morsels can no longer be acquired directly using the trap. Instead, murdering the bird while it is in the inventory is now necessary.
In old science system, it used to cost 30 Research Points to craft.
Bugs
Sometimes birds will glitch out of traps after being caught.
Sometimes the traps disappear, but they still show up on the map. The player can press space when near it to get it back.
If you place the traps with seeds, save and get out of the game when you return there's a big chance two or three traps will capture birds.
Community content is available under
CC-BY-SA
unless otherwise noted.