Raise a Floppa - The Loop
Play Sound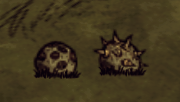 A Bee Mine is a Fight Tab Item that releases Bees on a mob that steps on it. It requires 1 Board, 4 Bees, and 1 Flint to craft and a Science Machine to prototype.
To lay a Bee Mine, it must be placed on the ground with the right mouse button (the left mouse button will simply drop the mine). Placed mines will become armed a second after being placed. If a player has mines in the Caves and dies, the mines will disarm themselves and must be set again.
When a creature comes near enough to the Bee Mine, it explodes, spawning four regular Bees who are aggressive to whatever triggered the mine. Afterwards, the Bees behave identically to other hiveless Bees. If the Bees from the Mine are attacked by their target, other Bees from either Bee Boxes or Bee Hives will come to help. Surviving Bees will remain and can be caught with a Bug Net to make another mine. Catching them counts as aggression, and if there were others nearby assisting against the bomb target, those will attack the player, too. 
Bees, Killer Bees, Butterflies, Batilisks, Mosquitoes, and Shadow Creatures cannot activate Bee Mines.
Skins

[

]

Main article: Belongings#Bee_Mine

In Don't Starve Together, Skins can be applied to certain items to change their appearance. Information on how to obtain specific skins can be found on the Belongings page.
Trivia

[

]
Bugs

[

]
Multiple Bee Mines can cause render lag as they are constantly pulsating.
Gallery

[

]