The Accomploshrine is a craftable structure only available on the console versions of Don't Starve. It requires 10 Gold Nuggets, 1 Cut Stone, and 6 Gears to craft and an Alchemy Engine to prototype.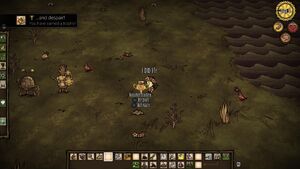 The Accomploshrine's sole purpose is to grant two PSN/Xbox achievements. To attain the trophies, the player must first build the Accomploshrine to earn the "Look on my works, ye Mighty," achievement, then activate the Accomploshrine a total of 725 times within one game to earn the "...and despair!" achievement.
Each time the player turns the handle on the device, the cranking sound will play at a higher and higher pitch until the 25th crank. After every 25th activation, the shrine will release a firework with a similar light effect as Lightning, and the player's character will remark on their accomplishment. When the player obtains the "...and despair!" achievement, a bigger fireworks explosion, flags, and music will come out of the Accomploshrine, and the character will comment again on their achievement.
Klei did not want to add any sort of achievements for Don't Starve, but Sony required them to do so for the PS4 release. This item was added begrudgingly as a jab at the pointlessness of achievements.
The name of the two Accomploshrine achievements are a reference to Percy Bysshe Shelley's sonnet "Ozymandias", in which a broken statue with the inscription "My name is Ozymandias, king of kings: Look on my works, ye Mighty, and despair!" is found in an empty desert; all the king's work was ultimately meaningless, just like the Accomploshrine and its achievements.
Since this structure uses Gears and has no uses, besides being a cosmetic and situational light, it's unwise to build it more than once, though players might build these to show off material abundance.
Community content is available under
CC-BY-SA
unless otherwise noted.